<
click on image to expand>
It was a Unit Policy to carry business cards so the customers the 48th hauled knew who provided the service. This image is of a card carried by Specialist Adrian Ashworth since 1965.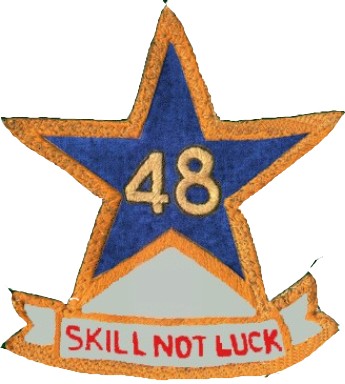 Click on BlueStar to go to the 48th Web Site.
Welcome to the Al Bruss memories of the 390th Transportation Detachment supporting the 48th Blue Stars in Viet Nam.
The collection of the photographs I took during my time in the US Army and particularly my Tour in Viet Nam from October 1965 through September 1968. I served with the 390th Transportation Detachment assigned to the 48th Assault Helicopter Company better known as the Blue Stars. The 48th was among the first Assault Helicopters companies in Viet Nam. Somewhere in the early 1970's, the 390th was folded into the Maintenance function of the 48th. The 48th was one of the last Assault Helicopter Companies to leave Viet Nam. According to an ABC News report, the 48th was the most decorated aviation unit in the US Army.
If we had known that we were making part of history, we would have made individual photos of everyone in the unit and recorded names so that we could identify everyone. That is how powerful the word if is.
This web site is to help regain and clarify memories.
The Name Cross Reference points to those individuals who have been identified.
The Contributors are those who have added their photos to this site.
The Red Ball Express is a unit publication created in late 1967.
Today I live on the road as a full-time RVer. If you are interested in my current activities, go to www.dmbruss.com.